Key & Spring Adjustments
Key heights and spring tensions are adjusted to recommended settings
Brass Repairs
Dent Removal
Slide & Valve Repair
Mouthpiece Removal
Woodwind Repairs
Pad Replacement
Dent Removal
Cork Replacement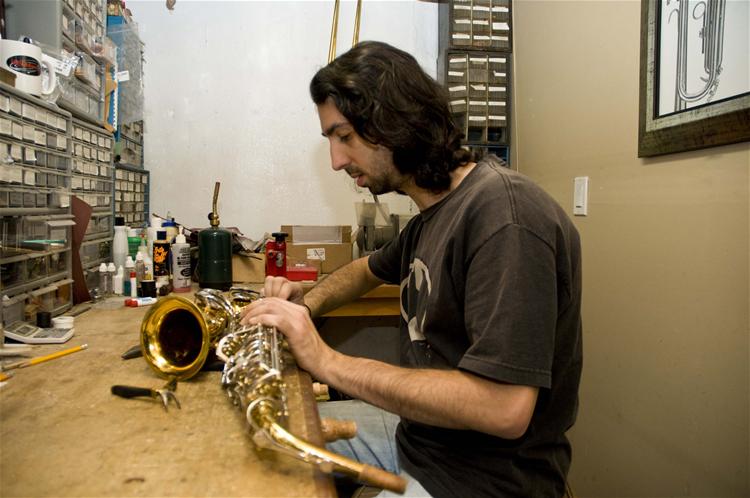 All repairs are done in our on-premise repair facility Monday-Friday.  Most general repairs are next day service.
Instrument Overhauls
*Please note all adjustments are made to recommended settings unless otherwise specified.  Due to individual playing techniques and preferences, adjustments may need further alteration.
Bridge Replacement
Each string instrument bridge is custom fit to match the contour of the top face along with height and curvature of the fingerboard.
Our technicians take the utmost care cutting new bridges for violins, violas, cellos and basses to ensure a proper fit for maximum playability and comfort.
Part Repairs
Chinrests
Endpins
Tail pieces
Tuning Pegs
Peg Refitting
Are your tuning pegs slipping or hard to turn? Seasonal changes to temperature and humidity can cause pegs to become ill-fitted. Our technicians employ a process of redressing pegs along with re-rounding of peg holes to ensure a smooth fit.
Body Repairs
Seam split
Face Cracks
Neck/Fingerboard Repair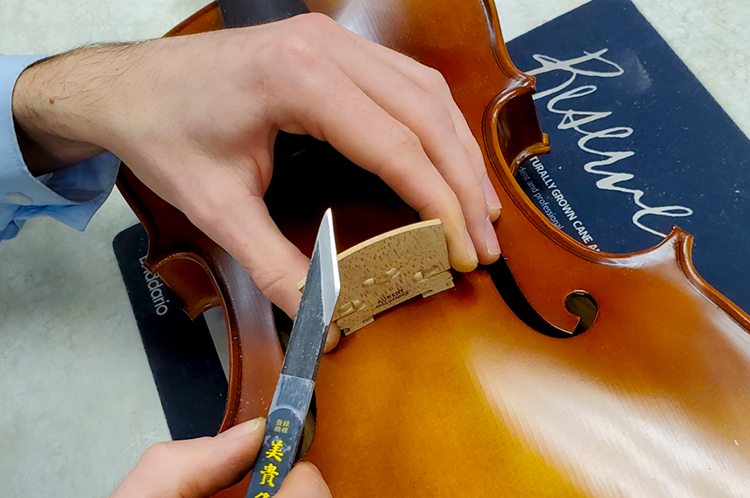 Guitar & Bass Repairs
From general maintenance to part replacement, we offer a convenient and quality repair service center for your guitar or bass.  Munro Music is an authorized Ibanez repair center.
General Guitar Set-Up
Neck Adjustment
String Height
Intonation
Cleaning Services
Polish & Fretboard Conditioning
Acoustic Guitar Repairs
Nut & Saddle Replacement
Electronics
Restringing Service
Improves intonation & playability! Strongly recommended every 1-2 months for everyday players.
Electric Guitar Repairs
Bridge Adjustment
Nut Replacement
Electronics
Choose from the best brands in strings!
D'Addario, Dean Markley, Elixir, Ernie Ball, Fender, GHS Boomers, Labella, Martin Strings, Savarez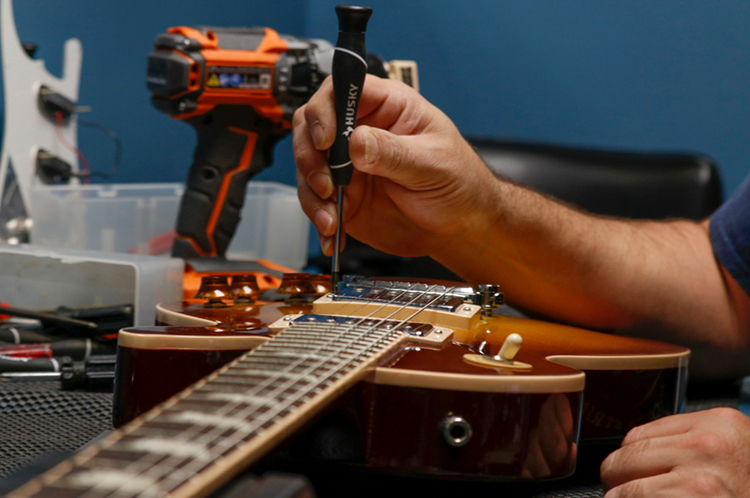 Instrument Cleaning Services
Brass & Woodwind Instruments
Cleaning services include:
both interior and exterior cleaning/sterilization of your instrument
re-lubrication & oiling
mouthpiece cleaning/ sterilization
full case cleaning/vacuuming
String Instruments
Cleaning services include:
polish
wood conditioning
wood touch-up (upon request)
full case cleaning/vacuuming
Guitars & Basses
Cleaning services include:
polish
fretboard conditioning
For pricing and further information, stop in with your instrument or call (631) 266-2334.