Guitars & Basses
Munro Music is an authorized dealer for Ibanez, Fender by Roland, Charvel, Hamer XT Series, Takamine G Series & Pro Series, Yamaha, Sierra, J.Reynolds, and Hohner guitars.  Our guitar specialists can assist in recommending a particular model to best suit any musician's needs.
Ibanez Electric Guitars & Basses
In-Store Selection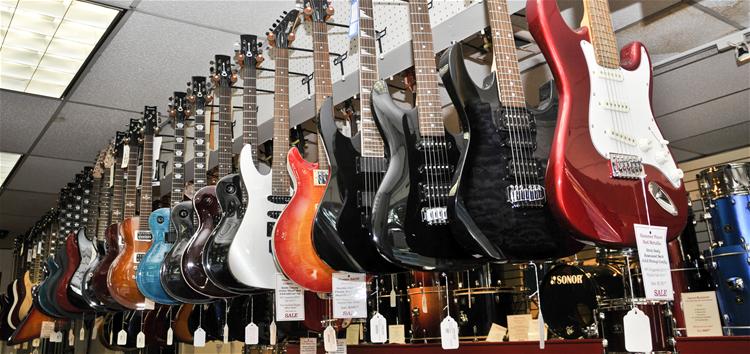 GIO Series

The GIO Series was developed for players who want Ibanez quality in a more affordable package. Whether you're looking for your first guitar or a working pro looking for a back up for your main axe, GIO guitars deliver.
Munro Music carries several GIO models starting at $149.95.

ARTIST Series

Whether you're a metal player or someone who loves the sound of traditional rock, the Artist series has the guitar for you. From heavy power chords to warm tones, 22 to 24 frets and 24.75 to 25 inch scale necks, these guitars are ideal for today's rock and metal player.
Our single cutaway Artist models start at $299.99.

RG Series

RG models are made to be played and played a lot. Among Ibanez's various lines, the RG Premium can be recognized as the ultimate workhorse guitar for today's hardworking musician.
Munro Music stocks both tremolo and non-tremolo RG models starting at $299.99.
NEW* Munro Music is now introducing the RG Premium guitar line.  These guitars are made in a Premium Ibanez factory, and include Dimarzio pickups, quilted maple tops, Edge Pro II tremolo system with Zero-Point tuning stability, and top quality craftmanship.

S Series

The Ibanez S Series first appeared in 1987. Ever since, it has changed in appearance and function to represent the cutting edge of Ibanez design.  Famous for its light-weght carved mahogany body, the S can take a beating while still providing the resonance of guitars twice its size.
The Ibanez S Series currently features the newly designed ZR Zero Resitance ball-bearing tremolo system with Zero Point tuning stability.
Ibanez S Series guitar start at $299.99.

MIKRO Series

The little Mikro puts out sound way beyond its size, which is why, in just a few short years, it's become one of the most popular guitars in the history of Ibanez. Perfect for young rockers on the way up or seasoned road warriors on the tour bus. The mighty Mikro series includes left-handed models, vibrant colors, and maple fretboards inspired by the classic 1987 "Ibanez Rebirth" RGs.
Our MIKRO models start at $149.95

ARTCORE Series

The AS is a semi-hollow guitar built to tackle just about any genre of music you throw at it. The pickups are mounted into a sustain block for increased sustain and feedback elimination. 17th fret joint features comfortable access to higher notes.
ARTCORE jazz models start at $399.99.

SR Bass Series

25 years after its inception, the now-ubiquitous SR continues its evolution, with Bartolini pickups, Nordstrand pickups, new finishes, and many new models that cover the entire price spectrum. Bassists of every level can enjoy the precision and comfort of the SR.
Munro Music's SR bass guitar selection starts at $179.95.
Ibanez Acoustic Guitars & Basses
In-Store Selection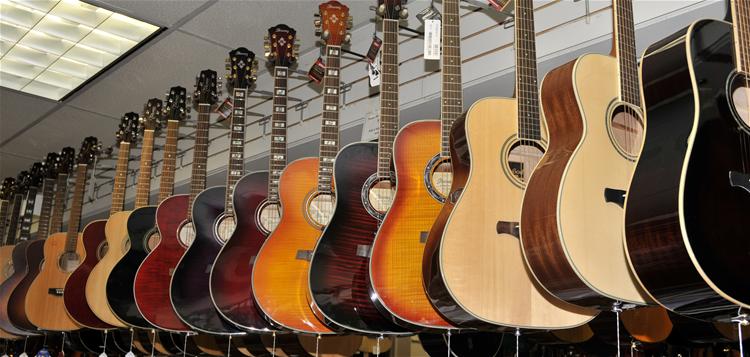 ARTWOOD Series

The Artwood series will satisfy players looking for a standard acoustic guitar and supply them with extraordinary tone produced by high-quality woods.
Our solid top Artwood models begin at $199.99.

AEF Stage Series

Back by popular demand, the improved feedback-resistant AEF body offers an ergonomic and comfortable shape. AEF models feature a large range of striking sunburst and solid finishes, quilted maple bodies, flamed maple tops and sides, and spruce tops.  AEF models feature Fishman preamp systems.
AEF Series guitars begin at $299.99.

AEG Series

The AEG Series slender, single-cutaway bodies deliver powerful and balanced acoustic sound, unplugged or through an amp or PA system. These guitars combine easy playability, classic solid and sunburst finishes, and mahogany bodies with spruce or quilted maple tops to create a quality, workhorse acoustic guitar that will rise to any occasion. High quality Fishman® Sonicore pickups and Ibanez SST Shape Shifter™ preamps with onboard tuners provide the sparkling tones that sound great in any venue.
The slimline AEG series starts at $249.95.

PF Series

You could say that the Ibanez PF Series provides guitars with a brand name at a price you wouldn't expect, but PF Series guitars offer a lot more than ultra affordable prices. By getting a guitar with the Ibanez name, you also get the assurance of Ibanez quality, sound and set-up.
PF Series acoustics start at $199.99.

GA Classical Series

The Ibanez GA Series classical guitars take the guesswork out of finding an affordable, great-sounding classical guitar that's easy to fret and play. Whether you are looking for a traditional classical-sized instrument or a comfortable nylon-string beginner guitar, the GA models are extremely well-constructed, affordable and have the pristine tonality and playability of much more expensive instruments.
GA Classical series begin at $149.99.
Please call for information on complete selection of Ibanez, Ibanez Premium, and Ibanez Prestige guitar & bass models.
Takamine Pro-Series Acoustics
In-Store Selection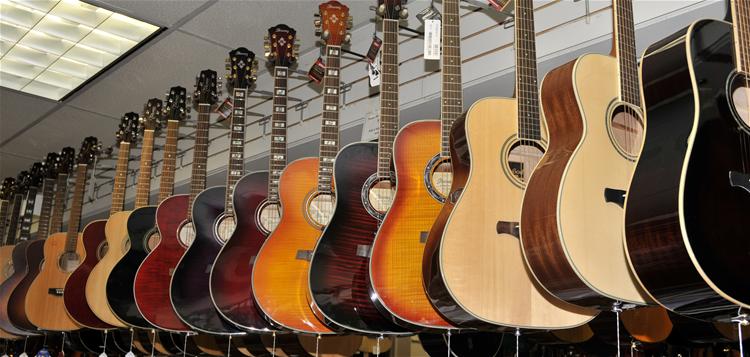 Supernatural Series
Keystone Series
Takamine G-Series
Munro Music carries many G-Series models in stock. The Takamine G-Series are quality acoustic & acoustic/electric guitars at an affordable price. Offering various body shapes, select woods, and beautiful finishes, the Takamine G-Series are perfect for the everyday guitarist looking for a reliable guitar. Ask one of Munro Music's guitar specialists to help select a model today!

Charvel Electric Guitars
In-Store Selection
Desolation Series

Magnificent Desolation. The Charvel Desolation series introduces entirely new designs not previously seen in Charvel's 30-year history, offering more tonal and stylistic options for discerning players everywhere. Devastating tone, killer looks and high-performance playability separate the Desolation series from all others. It's a whole new series of Charvel guitars for a whole new world of players.

Scalloped Heel
Neck thru body (on select models)
Active EMG or Charvel pickups
Hohner Guitars
Beginner Series

Munro Music carries smaller-bodied nylon classical and steel string Hohner guitars, perfect for the younger beginner! Come in today for a proper guitar fitting.